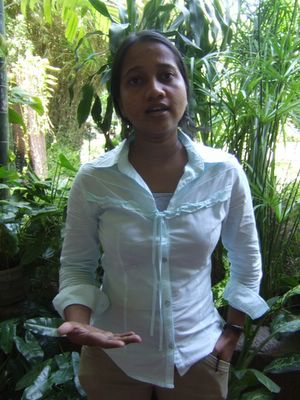 "My parents and younger sister are staying in Jaffna. There is a daily curfew in Jaffna from 6PM to 6AM. There is no fuel. Scarcity for essential items. People have to wait for a long time in the queues to buy things. The prices in shops have sky-rocketed. People are eating less to safe food for future.
There is not enough cash flow in the banks. Communication is completely cut off from the rest of the world. The main highway A9 from Jaffna to Kandy is closed for more than a month. The commercial flights to and from Jaffna have been stopped. People have to wait in long queues to get access to travel by ship to Trincomalee.
Patients are suffering. The power supply in interrupted very often. There is a heavy presence of military in Jaffna. People are afraid to move freely, especially young girls.I am very worried about my younger sister, who says she does not know what the future holds for her.
People are affected psychologically. Educational activities are at a standstill. Jaffna used to lead academically. But it is deteriorated. There is no access to media to travel and report tee fact independently, therefore the rest of the world is not aware of the prevailing situation in Jaffna.
It's a pity that my Sinhala friends do not know what's happening in Jaffna, and they keep asking me, "You have everything in Jaffna, why do you need peace?" I want to do something for peace. Because people are suffering endlessly" says Pathmapriya Vallipuram Gopalakrishnan (26) an Accounts Assistant of National Peace Council.